The Department of Dermatology was established at Seth GS Medical college and KEM Hospital asold as the hospital by Dr. A C Rebello in 1926 at Ward No.17&18 Main Hospital Bldg & Gr. Floor.
From 1926 Seth GS Medical college had post of honorary dermatologist and venereologist and honorary lecturer, with extern to assist outpatient department. With increased work appointment of resident registrar in 1930.In 1931 house physician was appointed. Honorary dermatologist started lectures and clinical demonstrations .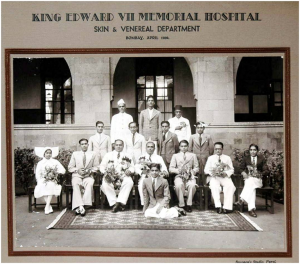 1939. Seated in front row from left: DR.GEORGE FERNANDEZ ,DR.JOSEPH FERNANDEZ,DR.A.C. REBELLO (4thfrom left), Dr. T.K.Mehta (5th from left)
Later Dr. Sharat Desai established first separate Department of dermatology in KEM hospital.
He created first residency program in dermatology.
He contributed in mycology and initiated dermatopathology.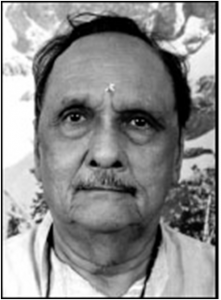 Dr. Sharat Desai
---
On July 1st 1947 Dr. UB Narayan Rao with Shri Morarji Desai ( home and revenue minister) inaugurated IADVL Mumbai.
Seth GS Medical college hosted this inaugural function.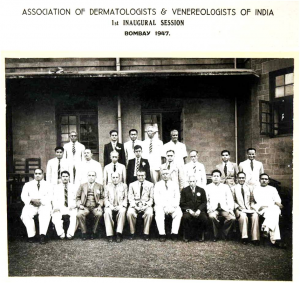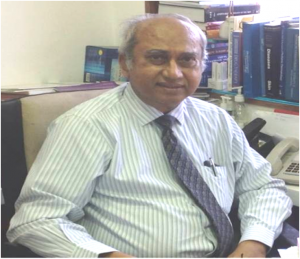 DR. RUI FERNANDEZ
---
In 1980s Dr. Rui Fernandez initiated specialty dermatology clinics. Later in 1989 he was Organizing Secretary for National Conference in Mumbai.
In 1990s he also pioneered dermatosurgery and paediatric dermatology speciality.
In 2004 he was President of IADVL.
In 2000-Seated in front row from left onwards-Dr. Rui Fernandez(2nd ),
DR. PUSHPA GUPTE( 3rd ),Dr.Sunanda Mahajan(4th),Dr. Vidya Kharkar (5th)
From 1996 to 2000Dr. Pushpa Gupte was Head of Department of Dermatology.
In 2000 she organized first All India Dermatomycology CME and took keen interest in developing dermatopathology.
---
DIWALI CELEBRATIONS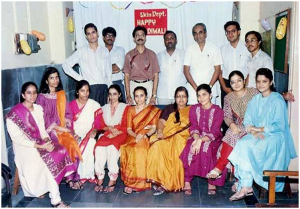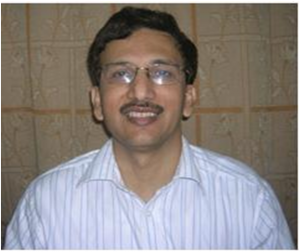 ---
Dr. Uday Khopkar(M.D,D.N.B,DVD)
( Head of Department of Dermatology and VD, Seth GS Medical College
and KEM Hospital Mumbai)
In 2002 Dr. Uday Khopkar joined Department as Professor and Head of Department.
He initiated Ultraviolet therapy , Dermoscopy, Pulse therapy for vesiculobullous disorders and Laser therapy in institute.
From 2003 to 2008 he was chief editor of IJDVL
He is Honorary Dermatologist to the Governor of Maharashtra
He is founder and Guide for Fellowship in Diagnostic Dermatology Course at MUHS in India
He is teacher and examiner for postgraduate students in degree and diploma courses in dermatology.
Scientific Chairperson for the National Conference of IADVL – 2004, Asian dermatology congress 2016
Organized CMEs in Dermatopathology, Dermoscopy, Genodermatosis, Update in Clinical Dermatology, Histopathology of Leprosy, Update in Leprosy
Chief Editor of Indian Journal of Dermatology, Venereology and Leprology for 6 yrs 2003-08
Section Editor of API Textbook of Medicine 2008 (printed the whole section in color for the first time)
Authored books on
Skin and STDs,
HIV infection,
Drugs in dermatology,
Dermoscopy of pigmented skin and
Skin biopsy
Lichen planus
Initiated and popularized IJDVL e-library project 2009
---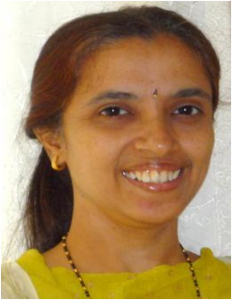 Dr. Vidya Kharkar M.D, D.V.D
( Professor , Department of Dermatology and VD, Seth G.S Medical College
and KEM Hospital Mumbai)
In 1991 Dr. Vidya Kharkar joined Department as lecturer, later became Associate professor and at present she holds the post of Professor. She haskeen interest in clinical dermatology including paediatric and geriatric dermatology. She started Non cultured melanocyte grafting for vitiligoand PRP for alopecias.
She completed fellowship in histopathology from CMC, Vellore and HIV from Mumbai.She is exeutive member of Lupus India Forum Ensemble(LIFE).She is on editorial review board for variousjournals . Co authored chapter in IADVL. text book of dermatology.
---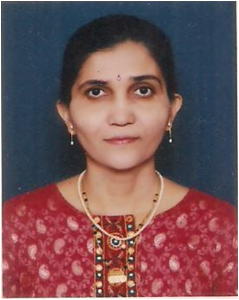 Dr.Sunanda Mahajan(M.D,DVD)
(Associate Professor Department of Dermatology and VD, Seth GS Medical
College and KEM Hospital Mumbai
In 1993 she joined as lecturer in Department of Dermatology with keen interest in clinical dermatology- Acne,Psoriasis, Vitilligo
She is undergraduate and postgraduate teacher and examiner of diploma and degree courses in dermatology for MUHS and University of Mumbai.
She is exeutive member of Lupus India Forum Ensemble(LIFE)
CME on Leprosy on occasion of 90 yrs of completion of Seth GS Medical College and KEM Hospital
---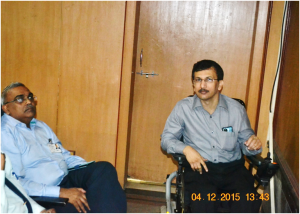 On left -Dr. Avinash Supe ( Dean, Seth GS medical college and KEM Hospital,Mumbai).
On right -Dr. Uday Khopkar( Head of Department of Dermatology and VD, Seth GS Medical College and KEM Hospital ,Mumbai)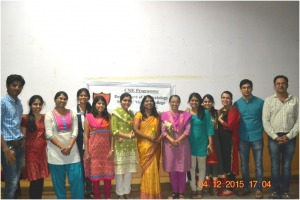 On occasion of Leprosy CME-Dr. SIddhi chikhalkar ( at centre), Dr. Vidya Kharkar( on her left ), Dr. Sunanada Mahajan (on her right) with students
Foreign Dermatologists visit to Department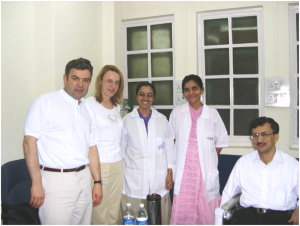 From left onwards -Dr.Volker steinkrause,Dr Almut Boer, Dr. Vidya Kharkar,
Dr.Sunanda Mahajan, Dr.Uday Khopkar
---
Sections Units Branches